The RamanProbe IITM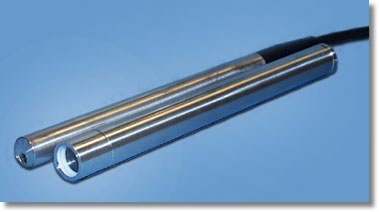 The RamanProbe II is a versatile fiber optic probe for immersion analysis based on the patented optics of the original RamanProbe. The 8" long body and removable sleeve enable the probe to be immersed directly in solutions for true in situ analysis. The focal distance is selectable to optimize the measurement of dark or turbid solutions.
The standard immersion sleeve is made of stainless-steel with a sapphire window. Overall, the probe is 5/8" in diameter, small enough to fit inside typical laboratory-scale vessels. The sleeve can be quickly removed for routine measurement of neat solids or samples in bottles.
Downloads (require Adobe® Acrobat Reader):
Technical Note #13: Background Filtering in Raman Fiber Optic Sampling Probes
RamanProbe II specification sheet
Features and Specifications
Sampling Head
Stainless-steel, cylindrical probe head with removable immersion sleeve, overall dimensions 5/8" (15.8mm) diameter x 8" (230 mm) length
Excitation Wavelengths
514, 532, 632, 670, 785, 830 nm, others available upon request
Spectral Range
250 - 3900 cm-1 (Stokes)*
Working Distance
Sliding immersion sleeve provides selectable working distance to optimize measurement of clear and turbid solutions
Fiber Configuration

Permanently-aligned combination of two single fibers (100 µm excitation fiber, 200 µm collection fiber) with filtering and steering micro-optics, N.A. 0.22, with stainless-steel cabled fiber

Options: Fiber sizes ranging from 50 µm to 400 µm.

Filter Efficiency
Patented design to filter laser line and quartz spectral contributions from both input and output fibers (O.D. > 8 at laser line)
Physical Resistance
Entire probe head can be heated to 200ºC. Sapphire window sealed to stainless-steel sleeve with PTFE gasket. Quartz window available as option (recommended for 633 and 670 nm excitation).
Cable Length
5 m std. (option: up to 200 m)
Safety Features
Emission indicator (std.), Class I sample holders available (for use without immersion sleeve)
Coupling System
Available with FC (std.) or SMA connectors
Retail Price
$ 6,745 USD
*Ultimate spectral range will depend upon spectrograph and detector.
Prices and specifications subject to change without notice.
---
All information and images contained in this web site are Copyright © 1998-2012 InPhotonics, Inc. All rights reserved.