The Process RamanProbeTM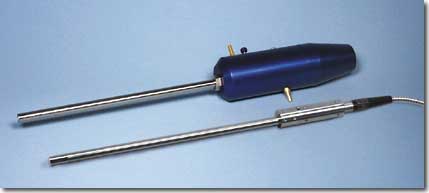 Raman spectroscopy can now be applied to reaction monitoring and process control applications with the Process RamanProbe. The Process RamanProbe combines the best features of optical design and mechanical robustness for sensitive and cost-effective process monitoring. This probe is based upon the same quality optics as the standard RamanProbe, but to protect the optics from extreme heat, the probe body is kept at a distance from the reactor with an extension tube. The tube itself can be interfaced directly into reactors and process lines. With the optional purgeable housing, the probe is suitable for most industrial environments.
Central to the design are InPhotonics' patented filtering and focussing optics, maximizing optical throughput while completely attenuating the Rayleigh (laser) line. The probe uses only hard oxide filters that can withstand high temperature and humidity conditions. Single fiber collection provides a simple and cost effective means to measure 100's of meters away from the spectrograph.
The pressure-tight stainless-steel extension tube is equipped with a compression-welded sapphire window at the tip.† A range of fixed working distances is available, as is a user-adjustable version. Other tube diameters are available upon request. Contact InPhotonics for custom modifications to meet your process monitoring needs.
Now available in Hastelloy C as well as 316 stainless steel.

Downloads (require Adobe® Acrobat Reader):
Technical Note #13: Background Filtering in Fiber Optic Raman Sampling Probes
Ten Reasons to choose the RamanProbe for industrial applications

Features and Specifications
Sampling Head
Stainless-steel, 13/16" (206 mm) diameter probe body with stainless-steel extension tube, 3/8" (9.5 mm) diameter x 9" (228 mm) length.
Excitation Wavelengths
514, 532, 632, 670, 785, 830 nm, others available upon request
Spectral Range
200 - 3900 cm-1 (Stokes)*
Working Distance
User-selectable fixed working distance, from 0.5 to 6 mm. User-adjustable versions available on request.
Fiber Configuration

Permanently-aligned combination of two single fibers (100 µm excitation fiber, 200 µm collection fiber) with filtering and steering micro-optics, N.A. 0.22, in stainless-steel jacket

Option: fiber sizes ranging from 50 µm to 500 µm

Filter Efficiency
Patented design for complete filtering of the laser line and quartz spectral contributions from both input and output fibers (O.D. > 8 at laser line)
Physical Resistance
Pressure sleeve specified to 3000 psi and up to 500ºC. External optics must be maintained below 200ºC (purgeable housing sold separately).
Chemical Resistance
316 Stainless-steel sleeve, sapphire window (flat or lensed) and gold seal† are resistant to corrosive chemical environments
Cable Length
5 m steel-jacketed cable (std.), up to 200 m on request. PVC coating over steel cable optional.
Safety Features
Emission indicator and safety shutter (std.)†
Coupling System
Available with FC (std.) or SMA connectors
Retail Price
$ 10,200 USD
*Ultimate spectral range will depend upon spectrograph and detector.
†U.S. patent 6,621,574
Prices and specifications subject to change without notice.
---
All information and images contained in this web site are Copyright © 1998-2012 InPhotonics, Inc. All rights reserved.