InPhotote1064TM Portable Raman System

When detecting Raman scattering, the sample's fluorescence can be a large non-Raman signal source. Since the fluorescence signal is also shifted from the laser frequency, it can be difficult to filter it out. Fortunately, fluorescence can be reduced by using a longer wavelength laser as the excitation source. 785nm laser has been the main excitation source for Raman spectroscopy, because it produces relatively low fluorescence and the photodector array is widely available in this wavelength range. Recently, the InGaAs photodector array has been commercialized which extends the range of wavelength detection to 1-2mm. Coupling the InGaAS photodetector with a 1064nm laser excitation source reduces interference from fluorescence. The following shows the Raman spectrum of motor oil with 785 and 1064 nm laser respectively.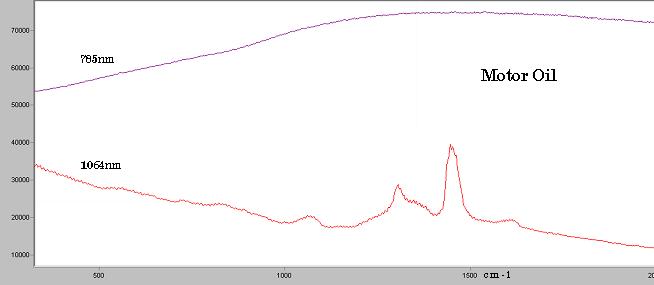 Features and Specifications
Optical Design
High throughput, slitless spectrograph with no moving optical or mechanical parts. Two spectrograph models: short-range (SR) and long-range (LR).
Spectral Range

SR version: 250 - 1000 cm-1
LR version: 250 - 1800 cm-1

Spectral Resolution
SR version: 6- 8cm-1 (FWHM)
LR version: 10-14 cm-1 (FWHM)
Excitation Source
DPSS, 600 mW, 1064nm laser
Detector
Vacuum-sealed, TE-cooled InGaAs array, 512 pixels, operating at -50oC for low background noise.
Sampling Arrangement
Standard RamanProbeTM fiber optic sampling probe with 5 m cable length can be used to measure unknowns through transparent containers (glass, pleastic). Options: probe extension cables (up to 200 m), immersible probe capable of withstanding chemical decontamination. Contact InPhototnics regarding surface enhanced Raman (SERS) substrates for trace-level detection.
Sample Holders
Various sizes of Class I sample holders available as options.
Physical Specifications
Optical components are shock-mounted in a rugged, water-resistant case. Outer dimensions 21" x 12" x 8" (533 x 305 x 203 mm), 29 lbs. (13 kg). Spectrometer can be operated at temperatures up to 30°C.
PC Hardware and Software
InPhotote acquisition software and GRAMS/32® manipulation software operating under Windows XP on an ultra-light notebook computer.
Optional Software
Chemical identification software, quantititative analysis software, and Forensic Raman Spectral Library of 243 materials.
Power Requirements
110V/220V-AC using external AC/DC adapter (included), or 12V-DC.

Specifications and prices are subject to change without notice.
---
All information and images contained in this web site are Copyright © 1998-2012 InPhotonics, Inc. All rights reserved.