InPhototeTM Portable Raman System for Rapid Chemical ID
Proven technology for Homeland Defense and forensic analysis.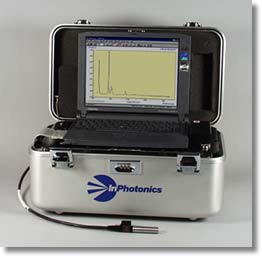 The ability to rapidly identify chemicals on-site is more important now than ever before. The InPhotote is a powerful tool for law enforcement, civil defense, military personnel, or anyone who may encounter suspicious liquid and solid substances. Unlike other technologies, the InPhotote is able to interrogate samples through transparent and semi-transparent containers, keeping personnel and instrumentation away from possible threats. Only the fiber optic probe needs to be close to the sample and analysis is completely nondestructive.
The InPhotote comprises a high-quality Raman spectroscopy system in a rugged, portable package. A frequency-stabilized laser, spectrograph, and TE-cooled CCD detector are integrated into the case. Setup time is minimal, and measurement is simple with the RamanProbe. Optical components can withstand elevated ambient temperatures and are shock-mounted for routine shipping and use.
Most samples can be measured through packaging materials (i.e. glass and plastic) with the RamanProbe. The probe is compact and lightweight for hand-held use, and can be mounted onto remote-controlled vehicles to identify potentially hazardous materials at a safe distance. Probe extension cables (up to 200 m) can be used to extend the samping reach of the unit.
The InPhotote is capable of identifying chemicals regardless of form (e.g. solids, liquids, slurries). Wet samples or water-based solutions do not pose additional identification difficulties.
Downloads (requires Adobe® Acrobat Reader):

Application Note #15: Chemical Identification with a Portable Raman Analyzer and Forensic Spectral Database
Application Note #18: Raman Spectroscopy for Homeland Defense Applications


InPhotote Brochure (Version 3.1)
InPhotote specification sheet
Features and Specifications
Optical Design
High throughput, slitless spectrograph with no moving optical or mechanical parts. Two spectrograph models: short-range (SR) and long-range (LR).
Spectral Range

SR version: 250 - 1800 cm-1
LR version: 250 - 2350 cm-1

Spectral Resolution
SR version: 4 - 5 cm-1 (FWHM)
LR version: 6 - 8 cm-1 (FWHM)
Excitation Source
Frequency-stabilized, 300 mW, 785 nm diode laser (linewidth < 0.1 nm).
Detector
Vacuum-sealed, TE-cooled CCD array, 1024 x 128 pixels, operating at -45oC below ambient temperature for low background noise.
Sampling Arrangement
Standard RamanProbeTM fiber optic sampling probe with 5 m cable length can be used to measure unknowns through transparent containers (glass, pleastic). Options: probe extension cables (up to 200 m), immersible probe capable of withstanding chemical decontamination. Contact InPhototnics regarding surface enhanced Raman (SERS) substrates for trace-level detection.
Sample Holders
Various sizes of Class I sample holders available as options.
Physical Specifications
Optical components are shock-mounted in a rugged, water-resistant case. Outer dimensions 16" x 10" x 9" (406 x 254 x 229 mm), 22 lbs. (10 kg). Spectrometer can be operated at temperatures up to 30°C.
PC Hardware and Software
InPhotote acquisition software and GRAMS/32® manipulation software operating under Windows XP on an ultra-light notebook computer.
Optional Software
Chemical identification software, quantititative analysis software, and Forensic Raman Spectral Library of 243 materials.
Power Requirements
110V/220V-AC using external AC/DC adapter (included), or 12V-DC.
Base Price
$28,000 USD

Specifications and prices are subject to change without notice.
---
All information and images contained in this web site are Copyright © 1998-2012 InPhotonics, Inc. All rights reserved.